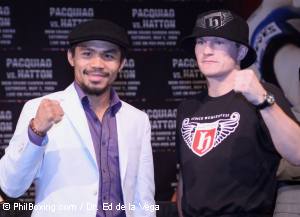 Saturday May 2, 2009 at 3:30pm

Sunday May 3, 2009 at 8:00am
Philippines

12AM London




The most anticipated match of the year, Manny "Pacman" Pacquiao vs. Ricky Hatton is about to take place. As a Filipino, of course, I proclaim my support to Manny Pacquiao. He is indeed a great fighter. The battle between Manny Pacquiao and Ricky Hatton will be held in the Philippines on May 3, 2009, Sunday at 8am. I'm pretty sure lots of Filipinos also wishes to watch this fight LIVE and FREE.

As announced by some Web forum participants, the fight will be shown live in ESPN, HBO PPV TV, CCTV and SKY SPORTS. With P2P technology, you can watch this highly anticipated battle between Manny Pacquiao and Ricky Hatton for FREE and LIVE without any commercial interceptions on your PC. Just download TVU or SopCast then locate HBO PPV channel or CCTV.
The streaming link below is one of the tentative SopCast channel where you could possibly watch the fight:
sop://broker.sopcast.com:3912/24267
Another good option is to search for websites that will be offering FREE live broadcast. I think it will be aired in justin.tv (
http://justin.tv
). Kapugad (
http://www.kapugad.com
) also invites the public to watch the fight on its website LIVE. However, this site requires Microsoft Silverlight in order to launch its TV.
So far, here are some of the live TVs that I've found:
Your-Motor

HBO PPV

SDTV




SKY Sports LIVE



ESPN Network